ESCAPE FROM PARADISE
with Ingrid Lemme-Chalut
St. Augustine, Florida — the Nation's oldest city!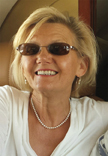 After having traveled along Florida's coastlines extensively over the years, we discovered the amazing Palm Coast and its unspoiled Flagler Beaches thirty miles south of St. Augustine. We promptly fell in love with it and made Palm Coast our winter domicile to catch up on Vitamin D as well as early American history.
St. Augustine is an incredible place, and since it is just a half hour ride from our winter home at Sea Colony in Palm Coast we were able to spend ample time there. We got to experience the sights and sounds of this fascinating city, from horse hooves on cobblestone and the roar of cannon fire to the hustle and bustle of a living community, as well as a tourist destination. Historical reenactments, stately castles, gilded-age hotels, artifacts and relics as well as terrific restaurants, hotels, and shops can be found on every corner. St. Augustine also boasts 43 pristine miles of beaches, reaching all the way down AIA to Palm Coast. The many marinas dotted around the area make boating access convenient by sea, river or Intracoastal Waterway. Fishing, diving, surfing, parasailing and all other kinds of water sports are easily available around the area.
St. Augustine is this nation's oldest city and was founded in 1565 by Don Pedro Menendez de Aviles of Spain. It is the longest continually inhabited European-founded city in the United States and with more than four centuries of history, a must for every history buff.

The oldest masonry fort in the continental United States, the Castillo de San Marcos is a large Spanish stone fortress built to protect and defend Spain's claims in the New World. It's a National Monument and, at over 315 years old, it's the oldest structure in St. Augustine and also one of the main attractions visitors come to see. Construction began on the Castillo de San Marcos in 1672 and lasted 23 years, until 1695. Many Spanish forts preceded the Castillo, however, this one made of coquina was impenetrable to enemy attack and was fire resistant. Still resonant with the struggles of an earlier time, these original walls provide tangible evidence of America's remarkable history, a monument not only of stone and mortar but also of human determination and endurance. www.nps.gov/casa/index.htm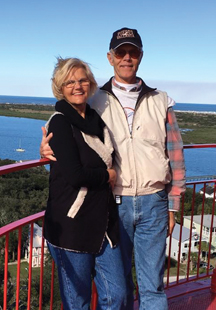 Of course we climbed the 219 steps up the city's historic lighthouse to experience the breathtaking views of St. Augustine, and the waters of the oldest continually occupied European port city below. The Interpretive Division provides docent-led guided tours that are free with the cost of admission. This includes a tour of artifact conservation areas featuring artifacts from historic shipwrecks. Ship modeling, Heritage Boat Building and interactive exhibitions use visual, audio, tactile, and kinesthetic learning to share information with everyone. The Lighthouse & Maritime Museum is a private, non-profit museum serving annually 225,000 visitors. www.staugustinelighthouse.org
Downtown St. Augustine is centered along St. George Street, a pedestrian only thoroughfare where no cars are allowed. St. George Street is considered the heart of the city, a five-block-long, cobblestoned all-pedestrian stretch of quaint-looking, Spanish-styled buildings that house shops with everything from T-shirts to resort and garden ware. Here, steeped in history, visitors find a shrine, America's oldest schoolhouse and many of the restaurants, galleries, bakeries, cafés, and unique shops for which the city is famous.
We almost missed the "The Jewel of St. George Street," St. Photios Greek Orthodox National Shrine, located in a rather unassuming plain, and whitewashed building. To our surprise we discovered Byzantine-style frescoes bedecked with 22-karat gold leaf here, portraying scenes from the life of Christ, and other apostles and saints. The Shrine is dedicated to the first colony of Greek people who came to America in 1768, and consists of exhibits depicting the life of early Greeks in America and the development of the Greek Orthodox Church in America, and the St. Photios Chapel. www.stphotios.org
The Oldest Wooden Schoolhouse is located on St. George Street as well. Although, it is touted as being the oldest wooden school building in the United States, the exact date of construction is unknown. The house appears on the tax rolls for the year 1716, but more than likely it existed years before then. The building is constructed of red cedar and cypress. Everything was made by hand, even the nails. Wooden pegs keep the timbers in place. Government moved slowly in colonial days and communication between the Spanish Crown and the little garrison town took a long time before taxes were assessed. The school is open almost everyday for tours. www.oldestwoodenschoolhouse.com
Of course one gets hungry after all that sightseeing, and dining or quick bite options are plenty in America's oldest city. The Columbia restaurant, family owned for more than 113 years, has earned acclaim for Old World charm and award-winning Spanish/Cuban cuisine and wine. Here we enjoyed excellent food cooked with century-old family recipes in Mediterranean-style dining rooms, filled with hundreds of hand-painted tiles and Spanish-style fountains. It is located on St. George Street and within walking distance of Castillo de San Marcos, the Spanish Quarter, Flagler College and Casa Monica. www.columbiarestaurant.com
However, no trip to the Nation's Oldest City would be complete without time spent traversing some of the others roads less traveled. St. George is just one of many enchanting streets that make up the city's historic downtown district. One thing's for sure: no matter which way you turn in St. Augustine, you're bound to find lovingly restored historic structures, one-of-a-kind shops, romantic restaurants and impressive art and cultural attractions. www.visitstaugustine.com
Until next month, from another great location.
Love, Ingrid
https://www.facebook.com/ingrid.lemme
Author and Ambassador for www.Seven-Stars.com