by Ingrid Lemme-Chalut
Florida's Palm Coast and Flagler Beaches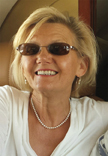 Whether you prefer the Atlantic, the Gulf Coast or the interior during the cold winter months, there's always a destination in Florida with lots of sun, warm breezes, and as much, or as little, to do as you want — unless there is a big freeze up north… The Nor'easter of January 2018 brought snow and ice all the way down to coastal South Carolina and Georgia!
However, having traveled along Florida's coastline for weeks last winter we soon realized that the building boom has made it often impossible to even get a glimpse of the ocean or Gulf Coast at certain parts of the Sunshine State. And so we were really happy when we finally discovered the Palm Coast and its beautiful Flagler Beaches, 31 miles south of St. Augustine and 24 miles north of Daytona Beach ideally situated on the northeast coast of Florida between the Intracoastal Waterway on one side and by the Atlantic Ocean on the other.
Here driving along the scenic AIA we felt as we had rediscovered a piece of the old Florida with wide-open ocean views. The 72-mile segment of historic State Road A1A abounds with white sandy beaches, ample recreational adventures, and history dating back before the birth of this county. We explored the second largest outcropping of coquina rocks on the Atlantic Coast when we visited Washington Oaks Gardens State Park.
We found a home for the winter in the charming oceanfront community 'Sea Colony', close to the famous Hammock Beach Resort www.salamanderhotels.com/hotels-and-resorts/hammock and fell in love with 'Flagler Beach'. Home to circa 5,000 residents, this is a charming beach town which reminds me a lot of Montauk. Since its incorporation in 1925, Flagler Beach has grown from a sleepy fishing village to a unique seaside community while retaining much of its original charm. It is home to un-crowded beaches, many great fishing spots including the Flagler Beach Municipal Pier, restaurants with oceanfront and Intracoastal Waterway dining, gift shops, an awesome farmer's market and a whole host of recreational facilities. This unpretentious coastal community serves everything from morning coffee to evening treats – all with a tinge of salt air. We are still in the process of discovering the many restaurants that are here at home but especially enjoyed "Vessel" at Flagler Beach and the "Lisbon at Night" Restaurant at "The European Village" in Palm Coast. We celebrated a reunion over a nice dinner with a dear friend who visited us from the Hamptons, at Lisbon. The flaming Portuguese sausage appetizer made a fun presentation and was delicious. The Surf & Turf, Lamb chops and my Seafood of the Day special with tiny clams were outstanding. The cuisine and service were excellent and the atmosphere authentic and cozy, and we, we shall definitely return. https://www.facebook.com/LisbonatNight/
Vessel is actually more a sandwich kind of place but serves much more then just sandwiches. A must are the AVO Toast, "Hot Fried" Chicken Feathers, the Minorcan Clam Chowder (with house made Datil pepper sauce), and definitely the Pork Belly Bahn Mi, roasted pork belly with a hoisin BBQ sauce, cucumbers, daikon radish slaw and aioli on a baguette. www.vesselsandwichco.com
Every day on the Palm Coast turned somehow into an 'Eco Adventure' for us! Florida's nearly perfect winter weather (unless there is a BIG FREEZE with unusually cold weather) enticed us to hit the roads and biking trails often. Six of the Palm Coast and Flagler Beach trails are listed on the Great Florida Birding Guide, which boasts a myriad of birding opportunities.
We experienced excellent boating and fishing and surfcasting on the Atlantic Ocean and the Intracoastal Waterway, a large stretch of water just west of the Atlantic Ocean that creates the barrier islands. From there both boaters and fisherman can meander through creeks and marshlands for a day of fishing. Those looking for a fresh water experience can venture out through Haw Creek to Dead Lake or Crescent Lake to view osprey, great blue herons, turtles and even alligators.
Palm Coast and Flagler Beach is home to numerous state, county and local parks and preserves. Washington Oaks Gardens State Park consists of 425 acres of coastal scenery as well as 20 acres of formal gardens. Visitors can picnic and fish from either the beach or the seawall along the Matanzas River.
When one spends the winter away from home one has to find not only nourishment for the body (like great organic farm stands on the weekly farmers market www.flaglerbeachfarmersmarket.com) but also nourishment for the soul. Money magazine highlighted the community's love for the beach, boating, fishing and waterfront living in its annual "Best Places to Live" edition. Weather won big points, too, with 221 clear days per year. www.visitflagler.com
Until next month from another interesting location, I remain yours truly
Love, Ingrid
https://www.facebook.com/ingrid.lemme
Author and Ambassador for www.Seven-Stars.com