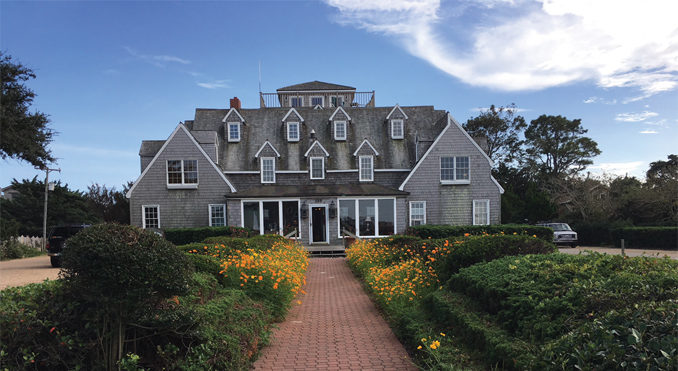 by Ingrid Lemme-Chalut
Outer Banks and Ocracoke Island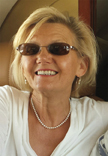 Come summer, Manhattan heads to Montauk — not that we can blame them. But when the leaves turn, we all, Montaukers and Manhattanites alike are sometimes longing not just for a change of color but also a rise in temperature. This month I'd like to take you to North Carolina's Outer Banks and entice you to visit a couple of their unique lighthouses. One located on Cape Hatteras, and the other located on the ever infamous Ocracoke Island. Once Blackbeard's playground, the notorious English pirate who was eventually hung on Ocracoke, this seventy miles long, Cape Hatteras National Seashore is today the largest protected beach on the East Coast. But first of all let's visit Nags Head, an ideal spot to spend the night before taking the ferry to Ocracoke, all part of the famous "OBX". For all who like to drive, it's about 8 hours from Manhattan to Nags Head, NC, without a pit stop.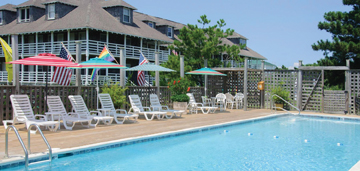 We had reservation at the historic First Colony Inn, sheathed in shingles, the building now stands as the last original example of a traditional "beach-style" hotel area that once graced Nags Head oceanfront. It is the oldest in continuous operation as a hotel and less than a mile from famous Jennette's Pier and most popular sight seeing activities. In a low-rise with charming wraparound verandas, this 1930s hotel surrounded by lawns sits across the road from a private ocean beach. We adored our antique king seize bed and the furnishings, but most of all the views over the 'Inner Banks' waterways. This property has been placed on the Register of Historic Places. A sumptuous breakfast, afternoon refreshments and passes to the YMCA water park were included in our stay. www.firstcolonyinn.com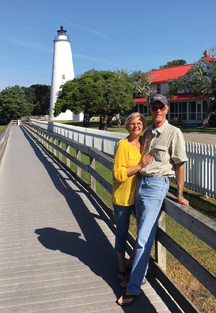 We had plans to catch the 2pm ferry from Hatteras to Blackbeard's island, have lunch on the way and visit the Outer Banks' most famous lighthouse. Enjoying the scenery of several small villages on the way, we finally stopped for lunch at a rather funky, little restaurant "Buxton Munch Co" in Buxton. It turned out to be a cool place where the locals eat and they serve terrific, fresh, local fish specials. Btw, we didn't find this place accidentally; my husband always asks a local realtor where they serve good, fresh and real food. Just like in Montauk, they know best. www.buxtonmunch.com
The Cape Hatteras Light Station, which is roughly in the middle of Cape Hatteras National Seashore, was an interesting side to visit. This lighthouse protects one of the most treacherous stretches of the Outer Banks, on the Atlantic Coast. Hundreds and possibly thousands of shipwrecks in this area have given it the reputation as the Graveyard of the Atlantic. In 1999, the Cape Hatteras Light Station, which consists of seven historic structures, was successfully relocated 2,900 feet from the spot on which it had stood since 1870. Because of the threat of shoreline erosion, a natural process, the entire light station was safely moved to the present site where the historic buildings and cisterns were placed exactly as they had been at the original site. With its black and white candy-cane stripes, and a beam of light that spans 20 miles into the ocean, the lighthouse is also the world's tallest brick lighthouse at a staggering 208′ ft. tall. www.nps.gov/caha/planyourvisit/chls.htm
The Hatteras–Ocracoke ferry ride was very pleasant and took exactly an hour, but because the fare is free, no reservations are accepted. Only boat, small aircraft, or ferry can reach this untamed island. We had reservations for two nights at the historic 'Castle on Silver Lake', a classic three-story B&B with charming rooms, antique furnishings and romantic views over Silver Lake.
facebook.com/ingrid.lemme/videos/10212201702050581/ This Inn is located within a short walk of Ocracoke's 1823 lighthouse, the second-oldest functioning lighthouse in the United States, but, hey, on this island everything is within walking or biking distance. The use of bikes was also included in our stay, besides every morning an incredible breakfast buffet. We watched Chef John and Ms. Sidra in the kitchen prepping our delicious creations over a fresh cup of coffee.
facebook.com/ingrid.lemme/videos/10212201826453691/ . Btw, we met here a bunch of bicyclers that were all part of the Carolina Tail Winds Bike Group. They kindly invited us to join them for their hot catered breakfast the next morning on the early ferry south to Cedar Island. carolinatailwinds.com
We came for the history of the place but also fell in love with charm of the island and the kind people that live there. Ocracoke's romantic Castle B & B has only 11 rooms but a few more adjoining more family-friendly villas. www.thecastlebb.com
Until next month from another interesting location.
Love, ~Ingrid
https://www.facebook.com/ingrid.lemme
Author and Ambassador for www.Seven-Stars.com