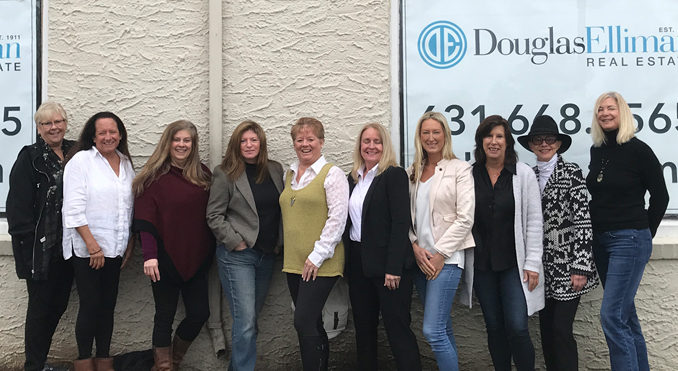 Elliman Expands in Montauk
Moving into its new, bigger digs, Douglas Elliman is poised for another year of growth in Montauk.
The national firm, which is the fourth largest real estate company in the United States, is moving from its spot at 752 Montauk Highway and into 99 The Plaza. More visible, and nearly four times larger than DE's home in Montauk for the past decade, the 2,300-square-foot space formerly housed the clothing store Calypso.
Meeting the needs of the area's growing popularity, the prominent new location will be the largest and most visible real estate office in the hamlet. The new office, which will house approximately 25 new agents, will better suit the needs of the business, says Carl Benincasa, Vice President of Sales Douglas Elliman here in the Hamptons.
"Douglas Elliman continues to dominate Hamptons real estate, and with this latest office expansion we are building upon our growing success," he says. "We are so excited to boost our presence in such a beautiful and important part of the East End community. And, as our new location is almost four times the size of our existing Montauk space, it will provide an even more inviting atmosphere for our agents, clients and the community."
Longtime branch manager and Montauk native Kim Fagerland agrees that the move will inspire closer ties between agents and those who live, or want to live, in Montauk.
"We envision our new space as a comfortable gathering place for community members to get acquainted with our agents," she says, adding that such a visible location is a huge benefit for both veteran agents and new recruits. "With so much additional space, it's a great opportunity for Douglas Elliman to grow the office."
Plus, the better visibility will set the standard for an already very successful office, according to top producer and Montauk native Susan Ceslow.
"It certainly affords us better visibility, and the space is very warm and welcoming," she says. "It's the perfect place to come in for guidance and to become more familiar with our ever-popular Montauk market and area."
Other Elliman South Fork office sites include East Hampton, Sagaponack, Sag Harbor, Bridgehampton, Southampton, Hampton Bays, Quogue and Westhampton Beach. Currently, Douglas Elliman has 113 offices and more than 7,000 agents in agents, the company operates over 110 offices in the Hamptons and North Fork, Long Island, Manhattan, Brooklyn, Queens, New Jersey, Greenwich, Boston, South Florida, Colorado and Beverly Hills. The firm also has a strategic global alliance with London-based Knight Frank Residential for business in the worldwide luxury markets spanning 60 countries and six continents.
For additional information, please visit www.elliman.com