June 2020
When I started this Journal six months ago I had no idea what a blessing it would be. With 2019-20 being Marlon Taylor's last season at LSU this Journal became the impetus to follow closer than on television.
After my trip to Baton Rouge in January, I decided to go on the road to watch him play at Vanderbilt in Nashville, TN. I flew into Nashville mid-afternoon on February 5th and didn't see the runway until the wheels hit it. The fog was dense. I should've known something was up. By the time I walked to Memorial Gymnasium from the Hotel it was pouring. Soaking wet I entered the Gymnasium built in 1952 and dedicated as the campus memorial to students and alumni killed in World War II. Originally built for multiple uses, Memorial Gymnasium's Court is above its surroundings like a stage. The players sit at the ends of the court instead of the sidelines. Their seats are lower than court level with the head coaches, players and referees above.
I knew after the National Anthem it was going to be different. I was in "Music City." LSU entered the game ranked 18th in the country with a 17-4 record. They were leading the Southeastern Conference at 8-0. Vanderbilt was 0-8 in the conference and 8-14 overall. It was my second time watching Vanderbilt in person having seen them lose in overtime to University of Richmond during my November visit to Virginia's Capital. In the Richmond game Vandy was led by it's star player, Aaron Nesmith who had 34 points with 7 three pointers.
With Nesmith out for the season with a foot injury, LSU looked to be a sure winner. Vanderbilt came out hot hitting 8 first half three pointers. Vanderbilt led by thirteen 50-37 with just under two minutes to go in the first half. LSU went on a 10-2 run to cut it to five at halftime 52-47. LSU was able to cut the lead to one and two points early in the second half. With 7:52 to play LSU went on a nine point run to take a 83-80 lead with just under six minutes to play. Vanderbilt finished strong with a 19-7 run and beat the Tigers 99-90. The Commodores were led by Saben Lee's 33 points and sharpshooter Maxwell Evans' 31 points with his 7 three pointers. They no longer were winless in the SEC. They shot 57.4% with 35 field goals on 61 attempts. They shot 40% on three pointers(12-30) LSU shot 46.8% with 29 field goals on 62 attempts but only 22.2% on three pointers hitting 4 of 18. Like the saying goes,"That's why they play the games" After the game I hit "The Local" a nearby honky tonk for singer songwriter night.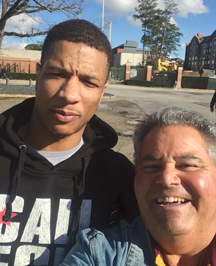 I continued my road trip by catching a flight to Atlanta, GA from Nashville on Friday February 7th. I picked up a rental car and drove to Auburn, AL where LSU would play Auburn at 11am Saturday February 8th. Just after waking that morning I looked out my hotel window to see a gorgeous rainbow at 6:34am. The weather had changed for the better. I got to Auburn University at 9:40am. The parking lot for the game was dwarfed by the football stadium. As I walked towards the Charles Barkley statue outside Auburn Arena, I thought about how crazy it must be during football season. Marlon and LSU came ready to play after the Vanderbilt loss. They shot 50% with 15 field goals in the first half. 7 of them being three pointers. Auburn had only 10 field goals on 30% shooting with 5 three pointers. LSU led by 12 at halftime 42-30. Auburn "flipped the script" in the 2nd half. They outshot LSU shooting 41% with 14 field goals nine of them were three pointers. They beat LSU by 12 in the second half and at the end of regulation it was tied 74-74. Overtime was all Auburn until the last two minutes. With 1:51 to play and Auburn up by 7 LSU came storming back. LSU's three year first team All-SEC Captain Skylar Mays stole the ball and got it to Emmitt Williams for a dunk with 9 seconds to play and LSU was up 90-89, but with .1 seconds left Auburn's J'Von McCormick hit a short floater in the lane and Auburn won 91-90.
It was like a tournament game. In a season where Conference and NCAA Tournament games were canceled, attending this overtime thriller was a blessing. Afterwards in the parking lot, Samir Doughty, the Auburn player who caught my interest before the game, came strolling towards me with a couple friends. He led Auburn with 26 points hitting 10 of 19 field goals with 5 of 11 three pointers. We talked about his journey from Mathematics Civics & Sciences Charter School in Philadelphia to the big time at Auburn. I wonder how his "Hoop Dreams" will continue?