by Sue Giustino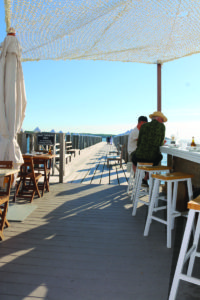 Duryea's Lobster Deck on Fort Pond Bay offers one of the best outdoor dining locations in Montauk. The deck leading up to a long pier, with availability for boaters to tie up, is arranged with comfortable seating shaded by overhead sails that add to the relaxed seaside ambiance.
Chef Pierre has compiled a menu that's perfect for any time of day: Seafood & Raw Bar, Soups & Salads, Small Plates & Shared Plates, Roll & Sandwiches, a fine selection of Wine & Champagne, MTK Brew Beer, and even some tasty Desserts.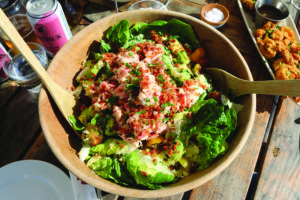 Arriving around 4pm for an early dinner, we enjoyed the afternoon descending sun with a slight cool breeze off the water. Contemplating our choices over a glass of Rose, we tried to order an array of dishes to share and write about. Keeping to the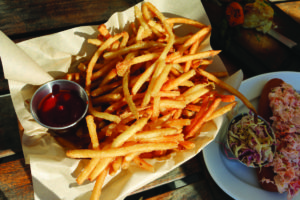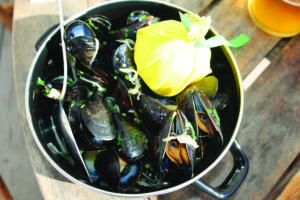 Duryea tradition diners order their food at the window, then the staff delivers the freshly prepared food.
Starting with a few small plates, the Mussels Mariniere were unbelievably tender, soaking in a delightfully light aromatic broth
with wine, garlic, shallot, and butter. The raw Little Neck Clams presented on a tower sitting atop a bed of ice, with a red wine vinegar and a spicy cocktail sauce were equally fresh and delicious. Crispy cornmeal crusted Calamari, served with eel sauce, was crunchy on the outside- but oh so tender on the inside. One of my favorites is the Lobster Cobb Salad. Served in a large bowl and blended with avocado, hard-boiled egg [optional], bacon [also optional], shaved cheese, crisp lettuce, tossed with a light dressing and fresh lobster salad on top; this dish can easily be shared by 4-6 people.
Coming out next was their  famous Duryea's Lobster Roll, chunky and lightly dr essed on a grilled roll and served with crispy sweet potato chips. The Market Fish will vary depending on what's fresh caught. For us it was Tile Fish which was seared crisp on the outside and flaky inside; full of delicious fresh fish flavor accented by the herb crust. This is a Share Plate and is beautifully arranged with grilled asparagus and peppers. We also indulged in a side of crispy string French Fries; other sides include Corn-on-the-Cobb, Fresh Baked Bread Basket, Jasmine Rice, or Market Veggies.
Whether you come in off the boat, the beach, or after a day of fun in the sun- Duryea's offers a lovely relaxing venue to enjoy a perfect Montauk Sunset along with fresh fish and seafood, some meat options like skirt steak, a Cheeseburger or Chicken Pallardas, as well as a menu for the kids.
Open 7 days: weekdays noon – 10:30, weekends 11am- 11pm. In addition to the restaurant, they have a fresh fish market. For more information, go to: http://www.duryealobsters.com/ or call 631-668-2410.