Come on in and get a taste of the real Montauk at the Sail Inn. Hidden away in the Harbor, the Sail Inn Restaurant, Bar, and Motel offers a view of Montauk from when Sports Fishing was the main event.  The Sail Inn is still a favorite of Sports fisherman and others looking for a comfortable, clean, inexpensive room and a restaurant and bar that makes you feel at home.
Prime Rib night is infamous at the Sail Inn- people call ahead to order their piece, but you can't reserve the table. Come thirsty and you'll be seated as soon as a table opens up.
We arrived on a Prime Rib night in June and what an amazing treat it was.  We started with one of Dottie's famous cocktails as we enjoyed some appetizers.  The large Baked Clams had lots of chunky pieces of clam and just enough spice to enhance, not hide, the flavor of the fresh clams. Another great choice was the Crab Cake, gently sautéed, tender, and filled with crab; ask for the horseradish sauce, it's delicious.  Quite a unique dish for Montauk, the fried Mac and Cheese were fried triangles of creamy, cheesy 'like mom used to make' Mac and Cheese.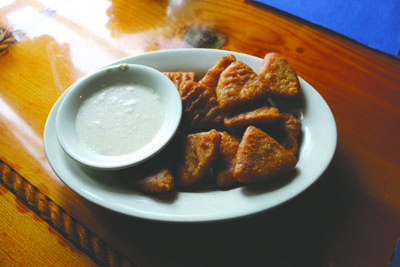 There were three of us so we had a prime rib dinner, the stuffed Flounder, and the Ribs.  Each was a generous portion, and was cooked perfectly. The Prime Rib was seasoned and crispy on the outside, and rare and juicy on the inside; cooked to order. It's no wonder customers return again and again for this dish!  'Fall off the bone' Ribs were meaty, tender beyond belief, and with just enough sauce to enjoy the flavor without swimming in barbeque sauce. Finally, the Stuffed Flounder was prepared with delicious crab stuffing and topped with a light garlic and butter sauce.  The menu also includes additional choices of steak, hamburgers, and fish sure to satisfy many tastes.
If you want  some tasty take-out, or a night out away from the hustle and bustle of summer in Montauk, take a ride to the Sail Inn and enjoy a meal that you won't soon forget.  They are open every day for lunch and dinner- see their ad for nightly specials.