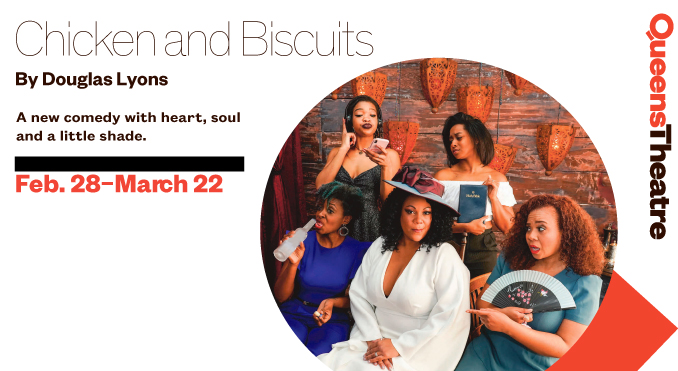 by Sue Giustino
Chicken and Biscuits is a new comedy filled with heart, soul and a little bit of shade, by composer-playwright and actor Douglas Lyons (Beautiful). The production opened at Queens Theatre on February 28th and runs through March 22nd.  The play is about an attempt by two sisters to put their sisterly differences aside to bury their father, Bernard. All is well at the funeral until it's revealed that Bernard had not just two daughters, but three. Wig pins loosen, as truths emerge, leaving this African-American family to confront their skeletons head on; naturally with lots of love, shade, and prayer along the way.
The venue, Queens Theatre, formerly Queens Theatre in the Park and before that Queens Playhouse, is an American professional theatre, located in Flushing Meadows–Corona Park, Queens, NY.  It  is a 31 year old performing arts center offering a range of performances and programs that reflect and serve the most diverse county in the world – Queens – at accessible prices, in a fully accessible venue. Queens Theatre, 14 United Nations Ave S, Corona, NY 11368
Tickets: $25 / Members: $20 / Seniors & Students: $22.50
Call the Box Office at 718-760-0064 or visit http://queenstheatre.org/chicken-and-biscuits for tickets.