by Debbie Tuma
Each time we venture over to Block Island, aboard the Viking Superstar from Montauk, we see and learn new things about this fascinating, tiny island. This time, my friends and I went over in mid-August, at the height of the tourist season, when Block Island is bustling with summer activity. But we also plan to go back in the fall, when there is still plenty to do and the sales are great!!
We boarded the 120-foot, steel Viking Superstar at 10 am, as Captain Jay Burke, of Montauk, ushered us on. Once inside, we enjoyed some hot coffee and "the best egg sandwiches," as Capt. Jay says, cooked by Debbie in the galley. There is quite an array of breakfast foods, from oatmeal, to homemade muffins and breads, and on the return trip back, you can even have cocktails. You can also take your bike aboard, and you throw your luggage up front and take a seat either in the enclosed downstairs, or upstairs with a more open deck for better tanning. The trip takes only an hour and 15 minutes, and this passenger ferry is part of the Viking Fleet of fishing boats owned for many decades by Paul Forsberg and his family. There is also a new, wooden cruising boat, "The Viking Classic," for sunset and cocktail cruises, as well as Lighthouse and Eco Tours.
The waters were exceptionally calm, as we headed into the New Harbor in Block Island, which was dotted with numerous sailboats, as this island is famous for sailing. We pulled up to Champlin's Marina, and as we walked along their dock, we noticed all the private boats were decorated with skeletons, pumpkins, cobwebs and witches—it turned out it was a Halloween theme! One of the captains explained that for several weeks, the boats get decorated in different themes and the next week was Thanksgiving, and the following week was a Christmas theme. "Only in Block Island," we chuckled to ourselves.
We walked up the hill to a sign that read, "Aldo's Mopeds & Bicycles," and waited to be picked up by Leo Leone, the son of the famous Aldo that also has an Italian restaurant, bakery and ice cream shop named after him, downtown. We drove over to Aldo's bikes, mopeds and car rental place around the corner, and we rented a sturdy, silver Jeep convertible. We always rent our cars from Aldo's, since they have several locations, including another one in the heart of town next door to their Aldo's restaurant and bakery. We said "Hi" to the friendly and funny Leo Leone, Jr. who is usually seen in the window of their downtown location, which rents mopeds and bikes. Call Aldo's at 401-466-5018.
As we were getting hungry from all the sea air, we drove around town, to the Old Harbor, and right past the charming Old Harbor Inn, where we have stayed in the past, we parked at Ballard's Restaurant & Bar for lunch on the deck. Ballard's is a staple in Block Island, having been there for many decades as well. It is a huge, open-air bar and restaurant, where you can eat right on the sand (almost) under blue umbrellas. There are also bands that play regularly, so you can dance to live music and also sit and have a drink at Tiki bars on the property, which is right on the ocean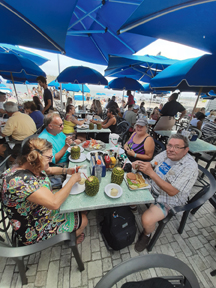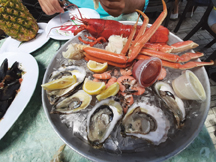 Since Ballard's is one of the places to go for fresh seafood, we started with some delicious mussels, and then shared a huge "Chilled Seafood Platter," consisting of a whole steamed lobster, crab legs, big juicy oysters and lots of peel and eat shrimp. We also tried their famous drinks served in real, scooped out pineapples, which tasted great and looked so tropical! After taking a swim in the calm sea, we decided to do some shopping downtown before heading back to the ferry at 5 pm. We walked along the Main Street from one end, by the small movie theater, to the other end, past the National Hotel and to the Surf Hotel, with amazing ocean views. We popped in and out of T-shirt stores, souvenir shops, and trendy little boutiques to buy beach towels, shirts, hats, and all kinds of things with the words "Block Island" on them–just to play tourist outside of the Hamptons!
Going to Block Island for the day is fun and easy—you have enough time to do and see things—to take in the beauty of this charming island with its Victorian architecture and old homes and guest houses, and still enjoy a delicious meal.
The Viking Superstar ferry will be running daily to Block Island through September 15, and then weekends through Columbus Day Weekend. This island is still lovely in the fall, when all the prices go down, and there are still events going on. Call the Viking Fleet in Montauk for reservations at 631-668-5700 or visit www.vikingfleet.com.