'A Little Help from Our Friends' – that's what the charitable participants of this event provide to the women of the East End. It's also how the organizers of the Beacon of Hope Event came together. Joe Gaviola, local businessman and lighthouse keeper for the Montauk Lighthouse had a conversation with a friend, who is a cancer survivor, about the volunteer work she does for the organizations that provided assistance to her during her treatment and aftercare: The Coalition for Women's Cancers and Lucia's Angels.  Running a fundraising event for cancer has been something he's wanted to do for a long time; having a sister who is a breast cancer survivor, and recently losing his mother to cancer. After the conversation with his friend, he decided that working with these two organizations and having them benefit from the event seemed a perfect match. Each group provides vital services to the women of the East End- A place close to his heart, where he grew up with his family and still lives today. Covid restrictions delayed the plans, but now he and the group of volunteers; including both charity heads, cancer survivors, and lighthouse personnel- are excited to see it happening.
The Coalition for Women's Cancers provide services to women diagnosed with gynecological cancers from Manorville to Montauk-South Fork only [there is another coalition for the North Fork]. Lucia's Angels does the same for women with Stage 4 gynecological cancers- they serve both forks. These organizations create a supportive network for women affected by breast, ovarian, cervical, and uterine cancers; focusing on a wide range of needs, from early detection and empowerment to bring about better health care and an improved quality of life. The services include educational, emotional, treatment, and financial support, as well as wellness for survivors. They rely on donations, grants and fundraisers to support their many efforts.
During our conversations, both Joe and Stacy Quarty, president of Lucia's Angels, mentioned to me that many people have the misconception that everyone who lives on the east end of LI are wealthy. However, as we who live here understand, there are many people who are not the 'halves' that most people think of, they are the 'have not as much'. People who live and work here; waiters, office help, school staff, small business owners, clerks…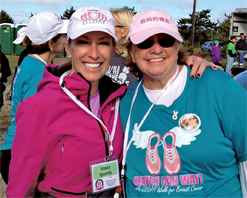 I asked Stacy how she and Susie Roden, President of The Coalition for Women's Cancers, became acquainted, and how the organizations started. Susie Roden has been diagnosed with and survived breast cancer three times. The first time was over twenty years ago and she basically did it all on her own, no support or groups to help her. After surviving the second time she decided that no one should have to go through this themselves, so she started the South Fork Breast Health Coalition.  Meanwhile, Stacy's beast friend Lucia was diagnosed with stage 4 breast cancer after the birth of her second child. Lucia utilized the services of the coalition, and while she was feeling better, she became a volunteer for the group and got Stacy involved as well.
After Stacy, along with other friends and family, provided a year and a half support for her best friend, Lucia lost her battle. Following Lucia's death, and realizing that the type of support someone with stage 4 cancer requires is very different from other cancers, Stacy saw another need. She decided to start Lucia's Angels to focus on the needs of women with stage 4 Breast cancer.  About 6 years later, when they saw women with other GYN cancers needing help, they had both organizations expand their missions to include all GYN cancers.
Today, the two groups work together very closely- Susie Roden is the President of the Coalition-which had morphed into The Coalition for Women's Cancers and the Executive Director of Lucia's Angels, while Stacy Quarty is the President of Lucia's Angels and the Executive Director of The Coalition for Women's Cancers. They work together and support each other, including with fundraising efforts and volunteers.
On Saturday June 18th, at 9am participants for the BEACON OF HOPE 5K Run/Walk will gather at the lighthouse. They will warm-up and take the path through Camp Hero and end up back at the top of the lighthouse. Motivational speakers and a ceremony honoring Dr. James Brady will follow.
Dr. Brady has been a long-time supporter of the two groups; not just financially and with his plastic surgery skills, but also volunteering-including being a bra model escort at the Reconstructed Bra Fashion Show & Auction held in May. According to Stacy, he was the obvious choice, because his support has been invaluable.
The goal is to have 1000 participants, so gather your friends and family, register at www.beaconofhope5k.org and come out to support these much-needed organizations. All of the money collected for the event will go directly to the two organizations, the lighthouse only receives a nominal site fee.