by Patria Baradi Pacis
Seniors' Birthdays!
On Friday, September 29th, the young at hearts, Iris Schneider, Jawahir (Jay) Jairam and Vincent Grimes, were honored with a delicious fishcake meal followed by a strawberry vanilla sheet cake to celebrate their natal day. We all sang "Happy Birthday" to them and wished them many more years to come.
Sad News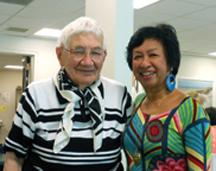 I am sad to report that on September 15th, the center and the whole Montauk community, lost a wonderful lady, my good friend, Martha Nicholoulias. A volunteer since the 90's, she was the most active nonagenarian I knew other than my Mom who lived to be 102. Martha was the one who welcomed you at the door with her Mona Lisa smile alongside her partner Edna and collected the $3.00 fee. She single handedly ran the weekly Bingo game that everyone loved to play.
Every morning before coming to the center, Martha, who was also a volunteer at the Community Church Women's Guild for plus twenty years, sorted out clothes and household goods donated by good samaritans. Every Saturday from Memorial Day through Labor Day, Martha worked the Rummage Sale religiously to augment the Church Building Fund and other charities.
Montauk was blessed to have known Martha. She gave so much of herself. Martha would have been 94 years young on the 28th. She will be missed!
On a happier note, the seniors were glad to have Executive Director Eileen Bock back after a brief absence. A big thanks to all who stepped in during Ms. Bock's absence, especially Therese Jarmain, the members of the Board and other volunteers.
For more info, kindly contact 631 668 1023 or check the website: www.montaukplayhouse.org/senior-nutrition-center.