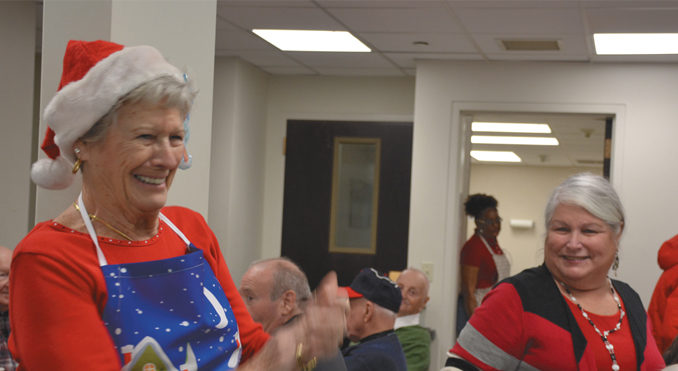 …by Patria Baradi Pacis…
First of all, this writer would like to wish everyone a very Happy New Year!
The Senior Nutrition Center has been busy the last two months of 2018. November babies Gladys Butler, Connie Lopez, Maria Davis and Jean Ruggles celebrated their birthdays after Thanksgiving followed by those born in the month of December; Gail Bimson, Aster Stein, Darci Strickland and Dorothy Malik.
A special Holiday Party luncheon was held on December 20 before closing until the new year. Hard working volunteers, elves of Santa served the seniors stuffed mushrooms, tossed salad, dinner rolls, spiral ham, mashed potatoes, spinach and a birthday cake. Montauk's Community Church Choir Director and Organist Lydia Shaternik Burns shared her talent by playing popular Christmas music on the piano accompanied by soprano senior Judy Tergis, yours truly and the young at heart who also joined making the lunch even more festive. The room was filled with Christmas decorations of red poinsetta flowers in small white vases as centerpieces placed
on red and green table clothes, matching cups and napkins, including stockings that were hung on the wall and small gifts for each senior given by their fellow neighbors. Kudos to Executive Director Sharon Sennefelder and Chef Eric for making the party a great success.
Although the Montauk Center lost its founder and former Executive Director Eileen Bock, this past year, we shall never forget her contribution to the senior community who she loved dearly. If you are 60 and over and would like a well balanced meal from Monday to Friday, do some yoga chair exercises and/or play cards, bingo or dominoes, please call Sharon at 631 668 1023 from 10:00am till 1:00pm or e mail her at: mtksenctr@gmail.com.
May 2019 be a healthy and happy one for all!
_____________________________________________
For more info about the center, kindly contact 631 668 1023 or check the website:
www.montaukplayhouse.org