by Patria Baradi Pacis
June Birthday Celebrants
Montauk's, long awaited perfect summer weather has finally arrived. The town is jumping and June birthday celebrants, Viola Angelidis, Zetlev Zimmerman, Patricia Muoio and Dorothy Campbell are happy doing their own thing, be it watering their garden, taking a stroll on the beach, watching beautiful sunrises and sunsets or making a wish upon a star on Montauk's clear and dark nights.
One could tell how happy the foursome were by the big smiles on their faces especially after being served first before their peers with a larger piece of their vanilla, strawberry cake. Kudos to Founder and Executive Director Eileen Bock for making the young at heart always feel special in the presence of their friends. Happy Birthday June babies. May you have many more healthy years to come!
*************************
Eileen Bock Retires!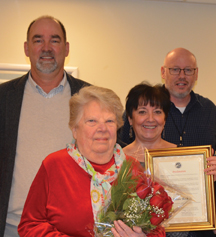 After more that 25 years as Executive Director of the Montauk Senior Nutrition Center, Eileen Bock has passed on her work baton to spend more time with her family and friends.
Previous to December of 1992, there were no facilities in Montauk where seniors could socialize and eat a well balanced and affordable meal. Ms Bock was responsible for opening the Center at the Montauk Community Church in the spring of 1993. She was responsible in recruiting the staff and volunteers to serve lunch and to help in its daily operation of activities, including the smooth transfer into the newly, renovated Montauk Playhouse in 2005, according to board member, Aster Stein.
Ms. Bock spear headed the special monthly, birthday celebrations, holiday lunches and annual "Over 90's parties" and was much anticipated and appreciated by the young at heart who were their Sunday best. Last year, Ms. Bock was honored and awarded two plaques of appreciation. One, from the town of East Hampton, presented by Supervisor Peter Van Scoyok and the other, from her peers for all her hard work.
"On behalf of the Montauk seniors, staff, and volunteers, we wish you good luck in the new stage of your life. Thank you, Eileen for having the foresight and determination in establishing a vital center for the community." This reporter is blessed to be part of a loving and caring, special hamlet.
_____________________________________________
For more info about the center, kindly contact 631 668 1023 or check the website:
www.montaukplayhouse.org/senior-nutrition-center.