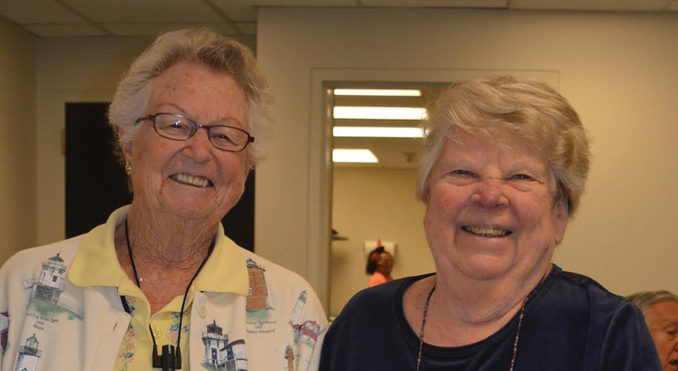 by Patria Baradi Pacis
Birthdays, Bingo and Halloween
Two senior babies, volunteer Ann Peterson and Executive Director Eileen Bock, had triple the fun during their birthday luncheon that was held at the Center on October 31.31st First, they were being honored for the month they were born in, second tuesday, was Bingo day a chance to win some goodies and third, it was Halloween day where some young at hearts went all out in wearing their costumes hoping to bring happiness to others.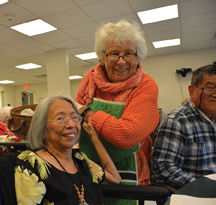 Volunteers Iris Mitchell served meals with her broom behind her, Gertrude Murphy impersonated a pumpkin, Edna Neuer came as a 17 times World Series Yankee fan, Perla Spanskie a Royal Hawaiaan Queen, Cam Pacis a cowboy and yours truly as the evil enchantress Malificent character from Sleeping Beauty.
On a sad note, the Center and the whole Montauk Community loss another lady icon, Monday's volunteer Lydia Daviduk Shaternik who passed away peacefully with family by her side on October 27 at the age of 87. A very active senior, I got to know Lydia well at the weekly yoga and computer classes hosted by the Library and as a partner in selling donated goods during the Montauk Community Church's Rummage Sale and Christmas fairs. Lydia was also my advisor on how to keep my sick plants alive since I don't have a green thumb. She also
volunteered to bring the Meals On Wheels to the homebound like my sister Perla.
Born from Russian immigrant parents on March 18, 1930 in Garfield, New Jersey, happily married for 61 years to her husband, a New York City fireman, the late Theodore Shaternik who recently passed away in June 2015. Lydia was kind, generous and a loving wife, mother and grandmother but most of all she was a good friend. Montauk was blessed to have known her. She will be missed!
For more info, kindly contact 631 668 1023 or check the website:
www.montaukplayhouse.org/senior-nutrition-center.