by Patria Baradi-Pacis
March Birthday Celebrants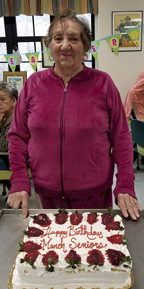 Young at heart, Frances Carroll was the only March baby present at the Senior Nutrition Center to share her strawberry-vanilla short cake with her peers. Absent were John Kessler and Nilson Novoa. I am sure that the snowbirds will be back from Florida or their winter homes in due time.
Won't you join this energetic group for lunch at noon on Mondays through Fridays? I promise that you will to have a fun time playing bingo on Mondays, East Hampton Health Programs on Tuesdays, chair yoga with Tsuyumi on Mondays and Wednesdays, meditation on Friday's with Lydia, and daily card games, dominoes and mahjong. For more info kindly contact Executive Director Sharon Sennefelder at 631 668 1023 or e-mail her at mtksenctr@gmail.com.
Happy Birthday to the March babies. May you have many more to come. Hopefully all our daffodils will have bloomed by the time you are reading this. Patience we must have, I suppose. Soon enough, we will be complaining how hot it is. This reporter is certainly looking forward to shedding her coat, gloves, hats, boots etc..etc..Happy Spring Everyone!