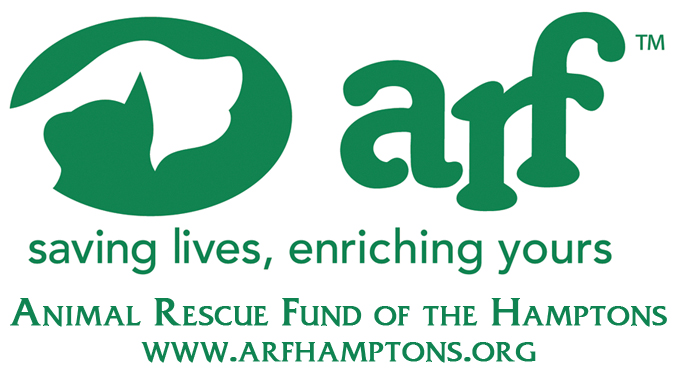 Animals of the Month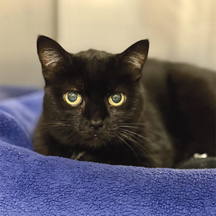 Zhou Zhou: Zhou Zhou is a gorgeous, black panther-like kitty who found herself at ARF when her owner could no longer care for her. She is a mature fifteen-year-old cat who likes to watch the day's activity from a distance and then winds down with a nice long nap in the late afternoon. She gets along well with other cats and would love a big bed to catch her "zzz's" in. Help us get Zhou Zhou back into a home.
Sahteene: Four-year-old Sahteene is a beautiful white Shepherd mix who is very smart and a bit silly. She is affectionate, and bonds quickly with people but, she prefers to be your one and only pet in the household. She knows her basic commands and wants to learn more. Sahteene is a great dog and will need a patient and understanding owner who can continue her training at home. Give this girl a chance, and she'll repay you in love.
For more information contact adoptions@arfhamptons.org or call 631-537-0400 x203.
All ARF animals are vet checked, spayed/neutered, microchipped and up to date on all vaccines.
To view all of our adoptable animals, visit: www.arfhamptons.org
NYS Registered Shelter/Rescue #RR035
---
ARF's annual Stroll to the Sea Dog Walk is back IN-PERSON, on Saturday, October 9!
The Animal Rescue Fund of the Hamptons, Inc. (ARF) announced that its annual "Stroll to the Sea" Dog Walk, presented by The Corcoran Group and East End Veterinary Center, will be held Saturday, October 9, 2021, from 9 AM to 12 PM. The event is a fun, family outing set amidst the beautiful Hamptons fall foliage with the feel of an idyllic country fair. It is intended to promote responsible dog ownership and awareness of ARF.
The two-mile walk to the ocean and back will begin and end at the historic Mulford Farm, owned by the East Hampton Historical Society in the heart of East Hampton Village. Dog walkers can register at give.arfhamptons.org/DogWalk. The pre-registration fee is $30 for adults ($40 day of the event) and FREE for children 10 and under with a registered adult, donations appreciated. Registration brochures are also available at the ARF Thrift Shop in Sagaponack. Walkers can participate virtually as well, and walk wherever they might be located.
All registrants receive a free event t-shirt, tote bag and refreshments including Starbucks coffee, Dreesen's Famous Donuts, Goldberg's Bagels, apples and cider from The Milk Pail, dog treats, and water. This year's t-shirt once again features original artwork by designer ISAAC MIZRAHI.
The walk will be followed by contests such as DOG/COMPANION LOOK ALIKE, THE POOCH WHO CAN SMOOCH and STUPID PET TRICKS. There will also be a free photo booth for pictures for participants and their dogs, and a silent and Lucky #'s auction with many exciting products, services and experiences for owners and pets.
It's easy to raise pledges by going to give.arfhamptons.org/DogWalk. Set up your own page or join a team. The prizes for top fundraisers include: a summer share for the 2022 season at Amber Waves Farm in Amagansett, pet portrait by artist Carol Saxe and a photo shoot with Dee is for Dogs. The top child prize (10 and under) is a bicycle from the Sag Harbor Cycle Company.
Everyone who collects $250 or more in pledges receives a special gift, courtesy of Isaac Mizrahi. Those who register at the $150 level or higher are invited to attend the Kick-Off Cocktail Party on Friday, October 8 from 6 to 8 PM.
The dog contests and awards ceremony begin at 11 AM and the "Stroll to the Sea" festivities conclude at 12 PM. Rain date for the event is Sunday, October 10.
This year's presenting sponsors are The Corcoran Group and East End Veterinary Center. Supporting sponsors include Chaser Brand, Lexus of Southampton and Mercedes Benz of Southampton. The ARF Mobile Adoption Van will lead the walkers to the ocean and back and will feature animals available for adoption.
Founded in 1974, ARF is a leading animal rescue and adoption center on Long Island, helping abandoned cats and dogs locally and in communities across the country and globally. In addition to its rescue and adoption program, ARF operates a pet food pantry, free vaccine clinics, and free spay/neuter clinics for feral cats.
The ARF Adoption Center is currently under construction and is conducting in-person adoptions on Thursdays, Fridays, Saturdays, and Sundays from 11 AM – 4 PM at the ARF Thrift & Treasure Shop, 17 Poxabogue Lane, Sagaponack. Or view our adoptable pets at www.arfhamptons.org.
To ensure the health and safety of our guests, all participants ages 12 and older will be asked to show proof of full COVID-19 vaccination upon entering the Dog Walk. Unvaccinated participants will be required to wear masks.