by Evelyn J. Mocbeichel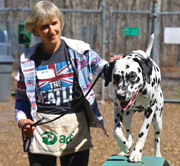 Once again the Animal Rescue Foundation (ARF) will be offering their extremely popular and affordable dog training classes that help strengthen the bond between dog and companion and help prevent people from giving up their dogs because of poor behavior. All classes are held at the ARF Adoption Center with instructor Matthew Posnick, unless otherwise stated. ARF is located at 124 Daniels Hole Road, Wainscott, N.Y.
The list of classes is extensive and includes the following:
DOG OBEDIENCE, BASIC, INTERMEDIATE & ADVANCED: Dogs and their handlers will learn basic obedience using positive reinforcement techniques. Curriculum includes Leash Handling, Let's Go, Turning Techniques, Stay/Stand, Sit/Stay, Down/Stay, Leave It, Come, No Jumping and Leash Pulling Prevention Exercises. Five classes.
OFF LEASH DOG OBEDIENCE: Dogs and their handlers will learn healing off leash, long distance sit and recall, targeting skills for better control, out of site down/stay and directed off leash jumping and retrieving. Five classes.
PUPPY KINDERGARTEN: Train your puppy early! It will pay off over a lifetime. Classes focus on socialization, interactive skills and simple obedience. Bring the whole family, fun for all! Five classes.
ONE ON ONE OBEDIENCE – NEW! Work one on one with ARF's Dog Trainer for special attention for your exact training needs. Work at your own pace. Limited sessions available.
DOG AGILITY, BEGINNER & ADVANCED: Build the bond of trust between you and your dog while getting great exercise! Dogs and their handlers learn basic skills including ramps, jumps, tunnels and weave poles. Five classes.
AKC® CANINE GOOD CITIZEN® CGC PREP CLASS* CGC Prep Class is designed to reward dogs who have good manners at home and in the community. The Canine Good Citizen Program is a two-part program that stresses responsible pet ownership for owners and basic good manners for dogs. Five classes.
Other classes include, THERAPY DOG PREP CLASS, SCENT & TRACKING CLASS, BEGINNER & ADVANCED, TRICK DOG CLASS and SHY DOG SOCIALIZATION
For information about dates, fees, requirements for each class and "what to bring" for the lessons call 631-537-1759 or contact Jean at jean@arfhamptons.org
---
ARF ANIMALS OF THE MONTH
Mickey: Beautiful ten-year-old Mickey has been at ARF for two long years. He has finally adjusted to life at the adoption center, but he'd rather be with you. Doesn't he deserve more? Just give him a little scratch behind the ears and he will love you forever.
Savannah: This is Savannah, a sweet and playful seven-month-old who is growing more confident each day. She likes other dogs but is scared of cats and small children. With proper training this young lady will be the perfect family pet.
For more information contact adoptions@arfhamptons.org or call 631-537-0400 x203.
All ARF animals are vet checked, spayed/neutered, microchipped and up to date on all vaccines.
To view all of our adoptable animals, visit: www.arfhamptons.org
NYS Registered Shelter/Rescue #RR035