Three Forty Three FDNY Marine Fire Boat training off Montauk
On a trip from Manhattan to New London for regular maintenance, the Three Forty Three stopped off the shore of Montauk for Sea Ocean Operations. This is a drill the crew participates in as part of their continued preparations as a Marine Fire Boat. Fortunately for us, a friend who was on the beach called to let us know about the boat. It was quite a sight and a treat for Montauk beach-goers.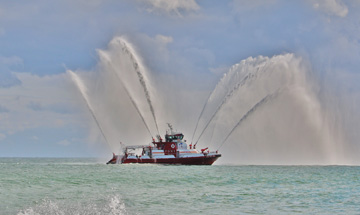 Named after the 343 firefighters who died on 9-11 this vessel was assigned to Marine 1, replacing the John D McKean. Weighing 500 tons, this 140 foot $27 million dollar largest fireboat is designed with the latest technology; capable of pumping 50,000 gallons of water/minute and traveling 18 knots at top speed. At the bow and stern are nameplates forged from World Trade Center steel. The Three Forty Three was launched on 9/11/09 and its homeport is Pier 53, Hudson River.
In 2008-9 the FDNY Marine Operations celebrated 100 years of service. With more than 30 vessels, Marine Operations is charged with protecting NYC's 560 miles of waterfront.