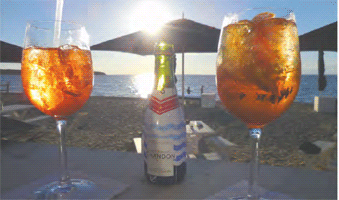 Navy Beach is a well known name in Montauk and a dining destination for locals and visitors alike. I have enjoyed listening to music, experiencing amazing sunsets, brunch, lunch, and dinner many times since they took over the Fort Pond Bay waterfront location on Navy Road; each visit was unique, enjoyable and delicious.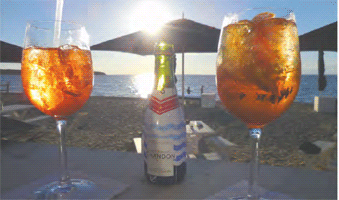 As is customary. each season the menu is tweaked with new and in­ teresting dishes, while some fa­ vorites stay put. The 2014 menu once again introduces wonderful ad­ ditions; some new flavor flairs with subtle influences from Southern France and Spain, and featuring local seafood and produce, each plate of­ fers the freshest ingredients.The in­ door nautical theme has even been featured by Chan don Winery of California, as you r Sparkling chardonnay is served in a nau­tically themed bottle to compliment you r surroundings.
Our visit began with a sampling of some of the new cocktails, the American Summer Spritz an d Senequier. The Spritz offers a little bubbly with Chando n, while the Senequier combines vermouth and rose with a bit of grapefruit; both are delicious, light an d refreshing. Whether you are outside enjoying the view or at the an­tique wooden bar lined with brass porthole windows, there's an eclectic variety of cocktails, beer and wine, in­cluding a n ice variety of French Rose Wines, perfect for warmer weather and pairing with the seaside menu.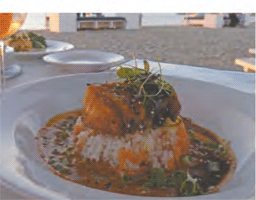 Following our cocktails, we were seated on the sand enjoying the sights, an d one of the best sunsets in Mon­tauk. Emily our delightful server started our dining expe­rience with Local Catch Ceviche, Salmon Tartare, and the Jumbo Lump Crab Cake-just a few of the dishes from the small plates selection. For our review, Marti n Cabrera, one of the owners chose some of the signature as well as new additions for u s to en joy. Enjoy we did! The Local Catch Ceviche is a blend of scallop, fluke, and ruby red shrimp marinated in citrus, jalapeno, ginger an d mi nt. Spicy, yet the fish an d herb flavors bursting so to bring you beyond the spice, add a lovely blend of diced vegetables and the en d result is a perfect balance of flavors. The Salmon Tartare was creamy, smooth i n texture with the Kimchi mayo and Gom Wakame, with an added crisp of crushed Peas an d served with Crisp Won ton. Tartare is not some­ thing I usually eat, but I stepped outside my box and was glad that I did – it is delicious. The jumbo Lump Crab Cake is all crab, prepared with fennel and orange, and garnished with carrot and cherry pep- per aioli resulting in one of the best crab cakes I've ever eaten. Gently sautéed to be crispy outside while remaining tender and moist, this crab cake has an enjoyable spicy flair to accentuate the crab flavor. The crab cake along with our Montauk Kale Caesar salad which we enjoyed next would make an amazing lunch or dinner. The crisp kale is layered with Manchego, lemon, anchovies and capers and dressed with a light Caesar. Grilled shrimp was added to our salad which just added to the amazing taste of the whole plate. Needless to say, we began packing up the leftovers since Martin in- formed us we had a few large plates on the way!
In addition to their long time favorites, Buttermilk Fried Chicken and the Navy Burger, the large plate menu offers many delectable choices: Tile Fish, Bucatini alle Vongole, NY Strip Steak, Grilled Scallops, Tuna Tataki Salad, Salmon, and a Lobster and Clam Bake. The Soy-glazed Goldeneye Tile Fish atop sushi rice and wakame with a coconut red curry sauce and sesame was both tender and flavorful; as good as it sounds. While the Grilled Sea Scallops ac- companied by paella rice blended with chorizo, shrimp, and peas with a lemon aioli is yet another amazing combination of taste and flavor was even better than it sounds.
Every dish has a beautiful presentation, aroma, and flavor. Add this to your seaside, nautical surroundings and your summer dining experience at is complete, satisfying all of your senses!
Navy Beach ~ 16 Navy Road, Montauk, NY631-668-6868 ~ navybeach.com