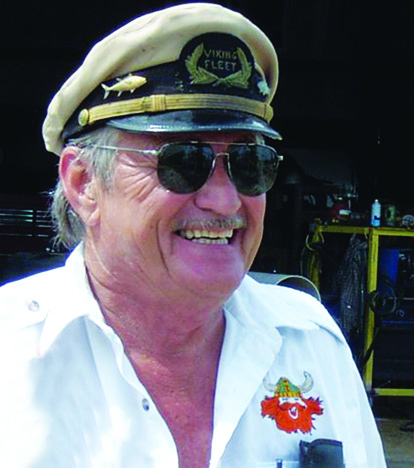 For over 50 years, Paul Forsberg, of Montauk, has worn his captain's hat, as owner of the famous Viking Fleet of boats, and now he will be trading it in for a black top hat, as this year's Grand Marshal of Montauk's St. Patrick's Day Parade on March 20.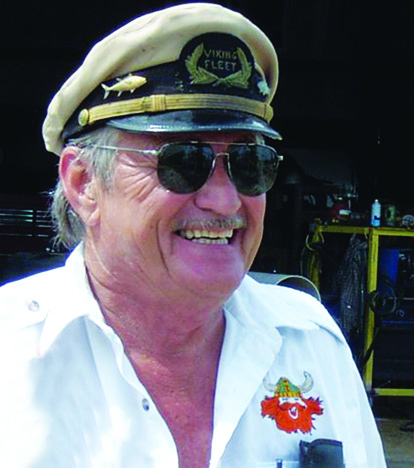 When Joe Bloecker, of the Montauk Friends of Erin, called to tell him the news, Forsberg said he couldn't believe it."I never expected it—I told Joe I'm not Irish, I'm Swedish," laughed Forsberg. "I said I'd do what I could to keep up with the Irish."Trading his fishing boots in for a tuxedo and cane, Forsberg will lead the 2016 St. Patrick's Parade from the Montauk Firehouse, down Edgemere Road, down Main Street, to the Montauk IGA."I said, what's the cane for, to beat off all my enemies?" joked Forsberg. In a more serious tone, he added, "It's quite an honor to be Grand Marshal—I'm excited about it."
Forsberg, 76, was talking on the phone from his other home in Tarpon Springs, Florida, where he takes his boats for maintenance, during the winter months. The rest of the year, he is busy running the large operation of the Viking Fleet in Montauk, which includes 5 fishing boats, including a 120-foot passenger ferry to Block Island, called, "The Viking Superstar."
Paul's father, Carl Forsberg, started the Viking Fleet in 1936 in Freeport, Long Island, and moved to Montauk in 1951. He started the first Viking Ferry to Block Island
in the early 1950's.
"We moved to Montauk with one boat, and then I eventually took it over," recalled Paul. "I had a lot of great help, including my sons Steve and Paul, Jr. both of whom grew up in the engine room, like me," he said. His grandsons, Carl and Steve, Jr., also work on the boats.
Paul Forsberg is currently renovating a classic, 60-foot wooden boat which he purchased in Sheepshead Bay, Brooklyn, and took to Florida. His grandfather was a naval architect, who designed the hulls of all his boats. This new addition will be a sight-seeing boat for Eco-Cruises by day, and for sunset and moonlight cruises by night.
Paul raised his family in Montauk, where his sons and grandsons attended Montauk Public School and East Hampton High School.
"Montauk's been good to me," he said. "The people are wonderful…when I needed money in 1970 to build a boat, the Montauk people were there for me."
Paul Forsberg has published a book on his long fishing history, called, "Gone Fishing With the Viking Fleet," which he co-authored with Manny Luftglass. Paul tells stories from his life, and how he built his fishing business.  Copies are available at the Viking Fleet office in Montauk.
Over the years, Paul Forsberg got involved in community activities and organizations. He was in the Montauk Volunteer Fire Department for 10 years, and he has been a member of the Montauk Chamber of Commerce, where he was formerly on the Board of Directors. He has also been a member of the Montauk Boatmen and Captain's Association, since the 1950's.
For many years, he has also been active in fishing politics in Washington, D.C.
"I spend lots of time in Washington, attending federal fishing meetings," he said. "If you don't show up, you become the menu—they eat you up," he said. "I try to stand up for our rights, affecting the regulations and restrictions of the charter and commercial boats in Montauk. "
He is on the Advisory Council for tilefish, seabass, porgies and fluke. He interfaces with the National Marine Fisheries Association, the governing body of the federal regulations.
Frank Tuma, Sr., of Montauk, who owned Tuma's Dock for 50 years alongside the Viking Dock, said he was glad to hear Paul Forsberg was chosen as this year's Grand Marshal.
"He's had a long history in Montauk, and has done a lot to promote the fishing industry here," he said.
Joan Lycke, owner of the Montauk Laundromat, who has taken over for Marilyn and John Behan in organizing the annual Grand Marshal's Luncheon, said she is excited about havig Paul as Grand Marshal.
My family and his, all moved to Montauk in the 1950's, and we're old friends…he's a sound businessman and has spent much time in Washington fighting for the rights of the fishermen," she said.
Although the luncheon has been traditionally held at Gurney's Montauk, this year it is moving to the Montauk Yacht Club on Friday, March 18, at Noon, due to space logistics. The Friends of Erin Cocktail Party will again be held at Gurney's Montauk on Saturday, March 19.
"This event has always been great at Gurney's, but their newly renovated dining room is not set up for this kind of event," said Lycke. "I am excited about having it for the first time at the Montauk Yacht Club, since the atmosphere fits in with Paul's background on the water near the docks. Also, their new chef, Paul O'Shay, is from Ireland, so that fits in, too." Tickets can be purchased at the Montauk Laundromat, and other business locations.
Although he doesn't consider himself to be a "drinker," Forsberg said he looks forward to wearing the green, and partying with the Friends of Erin at the cocktail fundraiser and also after Sunday's parade (March 20), when he will be toasted and roasted in all the Montauk bars!
Joe Bloecker, of the Montauk Friends of Erin, said he urges everyone to join his group at Gurney's for their big fundraiser for the parade on Saturday, March 19. There will be an open bar and lots of wonderful food and live music. They will also be honoring Paul Forsberg, with their bagpipers.
"Paul is one of the people keeping Montauk's history alive, as it was always a fishing resort first, and he's never waivered from that," said Bloecker.