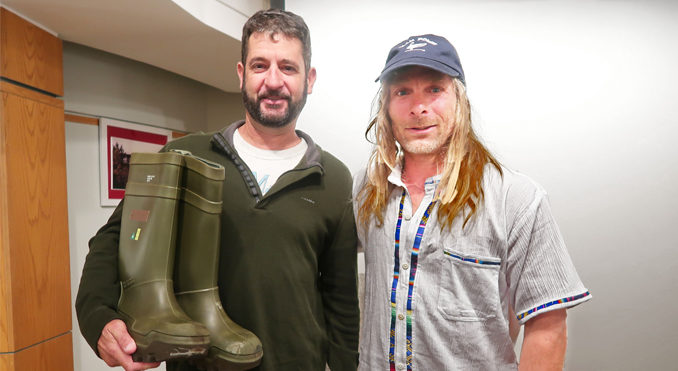 by Evelyn J. Mocbeichel
Over the years we have attended many fine events at the Montauk Library and their recent offering held to the same tradition. The evening we went it was a wonderful program about A Speck in the Sea, the book written about the dramatic experience of a Montauk fisherman who fell overboard and feared lost. The story made news headlines when it happened and TV coverage was extensive and the search rigorous until he was found. Guest Speakers at the library that evening were John Aldridge and Anthony Sosinski, the two fishermen that the story is about. Long time friends and fishing partners, their chronicle has spread around the country and across the globe. The interview was conducted by Debbie Tuma, who was born and raised in Montauk and comes from a fishing family herself. Her family started the charter fishing industry in the 1940's and her dad, Captain Bob Tuma, ran his own charter boat for six decades, so Ms. Tuma is very fluent on the topic of fishing dangers. Ms. Tuma is a newspaper, TV and radio reporter and the perfect moderator for this presentation.
Well attended with a full house in the Suzanne Koch Gosman Community Room at the Montauk Library, the audience was ready to hear an in person account from the two fishermen. The evening began with a welcome by the Montauk Library Director, Denise DiPaolo, who thanked all those responsible for putting the evening together. Following her remarks was a brief ten minute film with a montage of video clips from major networks when the incident happened and bulletins when John Aldridge was missing. Scenes of fishing boats, nets, roping and waves showed just how dangerous this profession is when boats are spending days out alone on the open seas. Their story was the basis for a New York Times Sunday Magazine cover story by Paul Tough in 2014. As the program began, Ms Tuma remarked how Montauk is the biggest port in New York State's fishing industry, both in size, the amount of fish caught and the financial gain to the businesses in the area. This was probably another reason why this story received extensive coverage because of the fame and popularity of Montauk and the perils of a person missing at sea.
As John Aldridge and Anthony Sosinski, sat on the stage; it might have been thought this would be a low key evening that the audience would hear a mild summary of what happened back in July 2013 when John fell off the deck of the Anna Mary. His best friend, Anthony Sosinski was fast asleep below and had no idea John vanished until he woke up to work his shift. The audience soon discovered that John is a vivid storyteller as he explained how he fell overboard, his thoughts upon impact, and what went through his mind in the 12 hours alone in the water over 40 miles from Montauk. The audience was totally silent as John described getting so tired and trying to float on his back, when he realized his rubber boots could be used as floatation devices, if held the proper way tucked under his arms, void of air pockets. Being noticed was impossible as he was wearing a brown shirt and dark blue jacket, as he bobbed around in dark ocean waters at 2 a.m. John was surely a speck in the sea. Knowing these are shark invested waters, he was constantly on the lookout for that ominous fin above water. In a few hours two swam near him and seemed to be circling, waiting for the right moment to attack. John thought that this could be the end and just curled his feet up into his chest not to look helpless, floundering, as that is what sharks look for before an attack. John related his story with genuine sincerity, sharing his inner thoughts and yet easily added touches of humor throughout his tale. What would he do if the sharks came closer? He said I had my small pocket knife and ready to do battle, if need be! Back to finding his bearings, John recalled what direction they were heading when he fell out of the boat and knew he wanted to look eastward to watch the sun rise and a hint of daylight so he could hopefully be spotted.
Meanwhile, on board the Anna Mary, Anthony had radioed for help immediately after he discovered John was missing. Montauk's commercial fishing community heard the radio news and joined the U.S. Coast Guard in the search. Anthony helped coordinate the air and sea rescue mission that encompassed 700 square miles by providing information to the Coast Guard as well as his fellow fisherman on another radio frequency. Adding to his part of the story, Anthony told the audience with heartfelt sincerity, that when one of Montauk's own is in need, whether something like this with a fisherman or boat in distress or for a resident that has cancer and needs a fundraiser, "Montauk takes care of its own". A murmur could be heard in the audience, in totally agreement with his remark and praise. He also related that some people that live in the Ditch Plains area and own planes were quick to go airborne and join in the search when they heard what happened!
During the interview, Ms. Tuma kept the conversation flowing by peppering questions to John and Anthony for a bit more information, "but not too tell too much and spoil the book for those that bought a copy that evening." It is available in both hardcover and paperback editions as well as Kindle and Audible formats. At the end of their storytelling, a Q & A session was held and the audience had an opportunity to ask more questions because there was so much more they wanted to hear right from the two men that are the center of this action packed tale! A Speck in the Sea, A Story of Survival and Rescue is the story of one man's struggle to survive as friends and strangers work to bring him home." A feature film based on this extraordinary experience is currently in development and promises to be a harrowing, exciting film. Raising my hand to ask a question, I wanted to know "if they were ever given a chance for any input on who they would like to play them in the film, which they would pick?" The audience heard which actor's names were being mentioned to star in the movie and they both are surely box office draws and perfect for audience appeal. Names mentioned on the web by industry film makers included Matt Damon and Ben and Casey Affleck, among others. You can purchase a copy of the book at the Montauk Library. Keep an eye out for the movie, too. If it is as spellbinding as the story told at the Montauk Library that night, you won't want to miss it!