The Haus On Mirror Lake – Lake Placid, NY
by Ken Walles & Bozena Krasnicki
In need of a not-so distant getaway before the winter season? Lake Placid is the place to go. With all of its hiking and biking trails surrounding this quaint year round ski, mountain village in the heart of the Andirondacks, you're sure to find a breath of fresh air. We started our trip out of Montauk early on a Sunday morning. Our scenic drive had taken us through Sag Harbor and Shelter Island via the Ferry service offered as an alternative to get us to Eastport and onward to Orient Point, where we would then catch the ferry to New London. A scenic and relaxing stress free way to travel to the New England area to our destination. The four and a half hour drive to Lake Placid takes you through some of our beautiful countrysides. Once we arrived at our destination, you can immediately feel the crisp clean air circulating through our lungs, not to mention the body adjustment to the different altitude that provides the very much needed balance from sea-level living.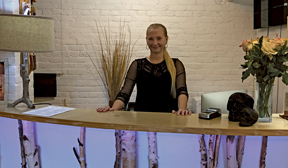 Upon check-in at The Haus, a Premier Hotel located in the center of town seated on the edge of Mirror Lake, we were greeted by General Manager, Yuliia Tyshevych. A very happy and welcoming Ukraine smile. Our lakefront accommodation was a sizable suite overlooking some incredible views, including some snow capped mountains. The Hotel being central to the town permits walking to all points in the village. A very convenient location. There are many shops and restaurants just steps away. One of our favorite shops located in The Haus, is The Saratoga Olive Oil Company where you can sample and/or purchase every oil or balsamic imaginable. From apple to espresso, to pear, to tangerine, to jalepeno and more… whatever turns you on to explore your taste bud needs !
Two of our favorite dining choices on this trip was The Cottage, part of the Mirror Lake Inn, with perfectly seated viewpoints with a modest menu just right for the health conscious. For our final dinner night, we chose Top of the Park for it was recommended to try their signature cocktails, which were in fact truly delicious. The cuisine was tapas style for sharing with others on their fire pit tables that provided warmth and romance. Of course there were many more restaurants to choose from but our limited time did not allow those opportunities.
Lake Placid being home to the 1980 Winter Olympics you can visit the world renowned Whiteface Mountain. Whether skiing, snowboarding in the winter or mountain biking during their other seasons, you'll find Whiteface a breathtaking experience. The chairlift offers the alternative to the top of the mountain. Other points of interest you will find are the Ski Jumps viewed from the roadside, the Toboggan or Luge runs, Ice Skating Rink, and even Horse Shows.
We do hope to make it back to Lake Placid and the Haus during the winter season with all of its holiday decor to experience this Winter Wonderland we've heard so much about and to take advantage of the reasonable rates being offered.
The Haus, Lake Placid  –  Eco Chic Adirondack Lodging
2439 Main Street, Lake Placid, NY      518-523-3005        https://thehauslakeplacid.com