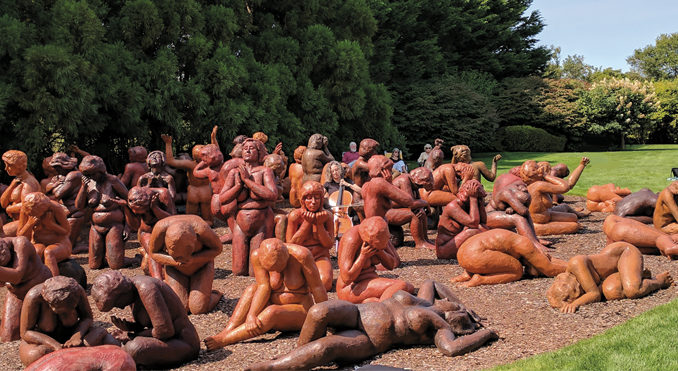 …by Sue Giustino…
This September 11th the Sculpture Garden "Dark Elegy" will be open from 10am-12noon as it is every day- only on this day there will be a cellist performing in the garden as she has for the past two years.
Jeanne Fox is a musician who lives in the Hudson Valley, who with her husband spends a few weeks each year after Labor Day here in Montauk. For years during her stay, she enjoyed visiting the garden and reflecting. In 2015 the weather was perfect and she thought about how wonderful it would be to play her cello at the garden on 9/11. So, she e-mailed Suse to ask if it was something she would be interested in. Although Suse admitted that no one had ever had that request, she thought it would be nice.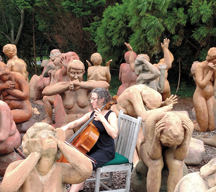 On the morning of 9/11 Jeanne set up on a bench to the side of the garden and began to play. When Suse and Peter came into the yard they brought a chair and insisted that Jeanne play in the middle of the garden surrounded by her sculptures. Jeanne admitted it was a bit overwhelming playing among all of the women and surrounded by the deep feelings and meaning of the display. Only about 8-12 people strolled through that day, but Suse loved it and they agreed to do it every year.
Well, last year, there were 50-60 people with lawn chairs! The audience enjoyed the music in different ways, some were somber, reflective, and quiet, while others were openly weeping. The commonality among everyone was that somehow they all knew that when it was over no one applauded; which was exactly the correct reaction for the moment. It was a time of reflection.
Weather permitting, Jeanne will be out in the garden once again this September 11th. All are welcome to come, listen, and reflect among this unique gift that Suse Lowenstein so graciously shares with our community.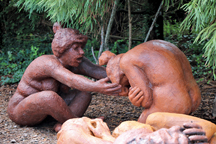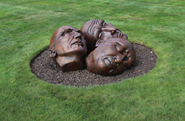 The sculpture garden "Dark Elegy" depicts emotional reactions of surviving family members, dealing with their first hand experiences of loss as a result of terrorism. The Suse and Peter Lowenstein tragically lost their son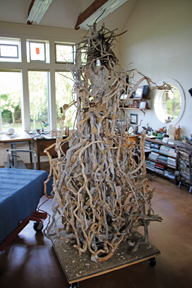 Alexander, a student at Syracuse University, on December 21, 1988 when Pan Am flight 103, from London to NY went down over Lockerbie, Scotland in an act of terrorism. Dark Elegy is a product of Suse Lowensteins artistic grievance therapy during the months and years following their loss. Starting with herself, she created a self-sculpture of the moment she heard the news of her son's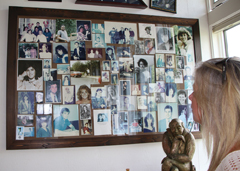 death. Wanting to expand the project to include as many family members as possible, she extended an invitation to all family members of the victims of flight 103; about eighty mothers, daughters, wives, sisters, and grandmothers accepted the invitation to pose. The garden, depicting raw emotions shared by all surviving member of any act of terrorism, can be viewed daily from 10am-12pm at the Lowenstein's home at 11 East Lake Drive.    http://darkelegy103.com/
About Jeanne Fox: Jeanne Fox is an active performer throughout the Tri-State region. Currently she is principal cello of the Northern Dutchess Symphony Orchestra as well as the Hudson Opera Theater, and has previously played with the Hudson Valley Philharmonic and the Waterloo Festival Orchestra. An avid Chamber Music performer, Jeanne founded and actively performs with both the Hudson Valley String Quartet and the Hudson Valley Piano Trio.
An extension of her passion for music is teaching and preparing young musicians to perform. Jeanne maintains a private class of cello students and has previously taught at New York University, Third Street Music School Settlement and United Nations International School. Jeanne enjoys playing different styles of music and was for many years cellist/bassist for the folk rock band Project Mercury (named Best New Band by Hudson Valley Magazine). She has also performed and/or recorded with bands such as ABC and Smokey Robinson, as well as with several local Hudson Valley artists including Elissa Jones.