…by Sue Giustino…
September 11th 2018 the Sculpture Garden "Dark Elegy" was open as usual from 10am-12noon- only on this day Cellist Jeanne Fox, a Hudson Valley resident and frequent Montauk visitor performed in the garden among the sculptures, as she has for the past two years.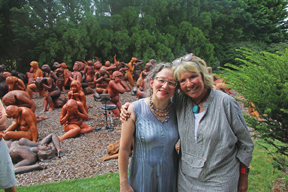 Two years ago, with permission from the Lowensteins, on the morning of 9/11 Jeanne set up on a bench to the side of the garden and began to play. When Suse and Peter came into the yard they brought a chair and insisted that Jeanne play in the middle of the garden surrounded by her sculptures. Jeanne admitted it was a bit overwhelming playing among all of the women and surrounded by the deep feelings and meaning of the display. Only about 8-12 people strolled through that day, but Suse loved it and they agreed to do it every year.
Scattered around the perimeter of the garden, on the muggy Tuesday morning, this year's audience once again had a truly unique experience with music, art and remembrance. Jeanne's performance along with Suse's sculptures, created a perfect atmosphere in which to recall and remember all victims of terrorism. Somber, reflective, and quiet, it was a peaceful time of reflection for all.
The sculpture garden "Dark Elegy" depicts emotional reactions of surviving family members, dealing with their first hand experiences of loss as a result of terrorism. The Suse and Peter Lowenstein tragically lost their son Alexander, a student at Syracuse University, on December 21, 1988 when Pan Am flight 103, from London to NY went down over Lockerbie, Scotland in an act of terrorism. Dark Elegy is a product of Suse Lowenstein's artistic grievance therapy during the months and years following their loss. Starting with herself, she created a self-sculpture of the moment she heard the news of her son's death. Wanting to expand the project to include as many family members as possible, she extended an invitation to all family members of the victims of flight 103; about eighty mothers, daughters, wives, sisters, and grandmothers accepted the invitation to pose.
The garden, depicting raw emotions shared by all surviving member of any act of terrorism, can be viewed daily from 10am-12pm at the Lowenstein's home at 11 East Lake Dr.