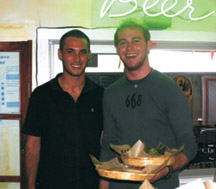 Having dinner around sunset on the outdoor patio at The Gig Shack, I overheard guests at the next table ask one another an honest and innocent question about the eatery, "So what do you think "668" means?"
The time has come when the phone number "668" is no longer the only exchange in Montauk, where Ditch Plains is featured in The New York Times on a weekly basis, and a place like The Gig Shack is a rare gem huddled in the midst of a town on the brink of mushrooming into the full-blown "Hamptons."
Fortuitously, The Gig Shack, an unpretentiously chic café open for breakfast, lunch and dinner, is going against the tide to stay true to its local, Montauk roots, while building a cult following in the process. Owned and managed by the charismatic Gardell family, there is not a night in which you will not encounter Tracey, her husband, Lewis, or one of their three appealing sons Skylar, Arden and Gray at The Shack.
Tracey Gardell teaches yoga in her "spare" time and manages 668, while the boys are behind the scenes in the kitchen, either bar or bustling around the patio, chatting with guests and spreading their enthusiasm for bringing local, fresh, eclectic dishes to those just as excited to devour them. Husband Lewis is the ever-charming host, greeting friends he knows and making friends with those he does not, bringing a sense of community to The Gig Shack that is woven into the growing loyalty to the new hot spot. A holistic dentist in Manhattan, Lewis can often be found giving dental advice, discussing tango dancing or suggesting specials.
Taking a cue from their recent travels to Argentina and Guatemala, Tracey and Lewis struck gold when inaugurating the talented Chef Nico at the helm of 668. Uniting global flavors while satisfying the craving for local food is no easy feat, yet 668 pulls it off seamlessly. With a silent, large screen backdrop, running surf films complimented by laid-back tunes, The Gig Shack also lives up to its name by featuring a sundry of live music as diverse as the menu. Surf bands, jazz musicians, violin pickers, acoustic guitar players and the newly formed Jayakari, featuring East Hamptons own Jay Schneiderman, bring live music on featured evenings and an essence of nostalgia for that little place on the side of the road in Costa Rica, Thailand, or some other exotic destination. In the meantime, until you do visit or return to those foreign lands, come to 668 The Gig Shack in downtown Montauk. It's going strong in its second season!
Paying homage to the surf culture and burgeoning surfing population, the Gardell boys heed the calling for top-notch dishes that are fun, inventive and satisfy the craving for a nourishing meal, post-surf session. With a passion for fishing and penchant for bringing the freshest seafood to the table, Nico and the Gardells have cultivated a menu that mingles South America and Montauk, draped over a heavy surfer influence. 668 has become our sanctuary after a long day of catching waves, where there is an inspiring dish for every palate, and vegetarians and carnivores alike are pampered.
The Gig Shack's "Bites and Bowls" feature substantial-sized snacks like the tender Half Rack of House Smoke Ribs and authentic Spicy Thai Mussels, lavished in sassy ginger and rich coconut milk. Larger meals indigenous to 668 are the "Baskets," a hub for a collection of distinctive dishes like the signature Lamburgini, three Moroccan-spiced lamb sliders with tangy garlic aioli and the much-adored crispy fish tacos. Other homeruns are the wholesome Bison Burger, Grilled Steak Wrap and no-holds-barred Chicken Burrito, where the laboriously chosen ingredients are crafted into handsome presentations.
A hankering for ingenious entrees is answered in the form of 668's "Big Bamboo Plates," offering a banquet of choices. The bona fide Paella of golden saffron rice with fresh shrimp, clams, mussels and hearty chunks of Chorizo, Seared Sea Scallops playfully infused with a coconut pineapple curry and Fajita Platter are superstars; stellar contributions to 668's budding, celebrity reputation.
Complimenting the menu are a variety of international brews on tap and bottled from Ireland, Belgium, Amsterdam, Italy, the Caribbean and even Brooklyn, with a sweeping compilation of international red and white varietals. And mandatory when dining at the Gig Shack: dessert. Not only are the fluffy scones and buttery croissants served at breakfast baked in-house, delights such Tracey's Red Velvet Cake are decadent, lush and downright blissful. Imported Gelatos and Sorbets offer a pool of flavors such as white-chocolate raspberry, bananas foster, caramel pistachio mascarpone and espresso bean cappuccino as additional temptations that are too alluring to resist.
As "The End" continues to evolve and enjoys its growing popularity with the masses, The Gig Shack brings us back to the local lineage that holds the key to the "real Montauk." The Gardells have created a much-needed establishment built on a sense of community and dedication to quality. And while Tracey, Lewis, their sons and chef Nico's commitment to the purest ingredients and the best tasting dishes has a become a well-known fixture on Main Street with its live music and charm, it's the true sense of family that is the core of 668 as well as Montauk itself.