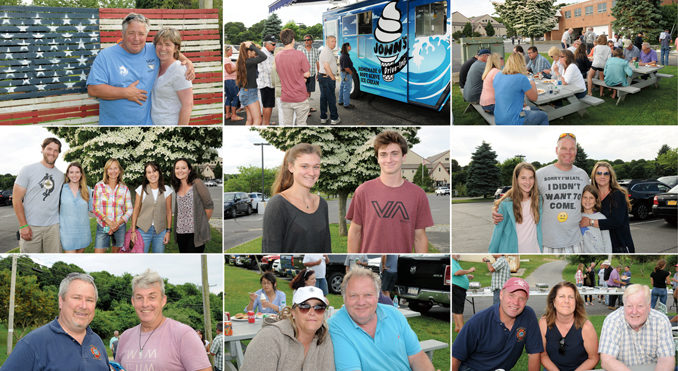 Hello, and welcome to all of the readers of Montauk Fire Department Corner. I hope everyone had a fun and safe Fourth of July weekend. The weather was great on the evening of the Fourth and the annual fireworks display was beautiful and well attended. As usual, the Montauk Fire Department assisted with fire suppression and traffic control for the event. It was great to see so many families visiting Montauk for the holiday and having a great time. We are always proud to assist the Montauk Chamber of Commerce with this event.
On June 21st the Montauk Fire Department participated in a multi-agency drill in cooperation with East Hampton Town Ocean Rescue. The drill was a total success. It's always good to be able to work with other likeminded volunteer organizations throughout our community.
On Monday, June 24th Montauk firefighters, EMT's and their families got together at the fire house for a summer barbeque. The weather was beautiful, the food was great, and everyone had a good time. As luck would have it, MFD Honorary Chief Rich Lewin was there with camera at the ready. Please enjoy these pictures provided by Rich (above).
In this month's Member Profile, I am happy and proud to present Captain Dustin E. Lightcap. Dustin is 29 years old and joined the Department as an EMT five years ago. He is a native of Montauk and a member of one of Montauk's largest and oldest families. He graduated from Montauk Public School, East Hampton High School and New York University. I find it impressive that, at the age of 24, Dustin joined the Department, successfully completed a year of EMT training, and three years later was elected by his peers to be the Captain of the Montauk Fire Department's Ambulance Squad. As you can imagine, his position as Captain keeps him very busy, as does his job as a surveyor with Walsh Surveyors. He exemplifies the qualities of young men and women of Montauk whom we are always anxious to recruit, to insure that there will always be enough qualified volunteers to take care of the citizens and visitors of Montauk in the future. Captain Lightcap has firefighting and public service in his blood. His great grandfather Joe Mead was a member of the New York City Fire Department, where his cousin Morgan Neff currently serves. His grandparents, Pat and Joe Smythe actually lived at the Montauk Fire Department and acted as dispatchers at one time. When asked why he decided to join the Montauk Fire Department, Dustin said that he wanted to give back to the community of Montauk, and that there's no better way to do that than in the MFD. I am proud to serve with people like Captain Lightcap and the men and women of the Montauk Fire Department.
That's it for this month's issue. Enjoy the rest of your summer.
~ David Ryan, Chief, Montauk Fire Department