by Evelyn J. Mocbeichel
Known for its pristine beaches, surfing, fishing, boating and host of sports, there is so much more to a Montauk visit! Wherever you go, it is easy to find musical entertainment throughout the village of Montauk, especially during the summer. Almost all of the events are free, open to the public and the perfect way to spend a delightful evening after a day at the beach or other outdoor activity. In just one week here is the schedule we kept that delighted our out of town guests, who were impressed with the variety of concerts and performers we got to listen to.
Our week began on Sunday attending the first concert of the season held at Gosman's Restaurant complex by their stage and lawn area. People bring a lawn chair or blanket and enjoy a two-hour concert in the center of this delightful harbor location. The concert starts at 6 pm. Local and noted singer/musician and her band The Nancy Atlas Project was the first of the weekly Sunday series that continues until Labor Day weekend. You can catch Nancy Atlas Project throughout the Hamptons year-round by keeping track of her schedule at www.NancyAtlas.com. Each week a different singer or band headlines the Gosman's Stage. Check out their website to read about their multiple restaurants, shops and future performers coming the rest of the summer. www.gosmans.com  On Monday evening we went to dinner at 668 The Gig Shack to catch Tom Wardle that appears there each Monday from 7 to 10 pm. Originally from Nottingham, England Tom has returned for his second summer in the Hamptons with over 50 gigs booked from Westhampton to Montauk! His new record, Jacqueline, came out in February and he's thrilled by the positive feedback of this beautiful, song with the richness of his guitar and his soulful lyrics. You can listen to his song on YouTube or visit www.tomwardlemusic.com The Shack (as locals like to call it) has a list of other performers and events throughout the season. Their menu offers "Global Surf Cuisine" with local wines and beers included on the menu, it is the place to be to dine and for late night drinks. Visit www.668thegigshack.com to peek at the menu offerings and their "2019 gig" schedule.
With gorgeous July weather our mid-week was filled with visiting various beaches, and entertaining our guests with dining out and home barbecues. Then it was time for our musical excursions to start again! Barely catching our breath from the weekend, the next Monday evening we were joined by our Montauk friends, Patria and Cam to listen to the Ray Red Band right in the heart of town at the gazebo in front of the Montauk Tower building. Band leader, Ray Red, told the audience he hails from Byron Bay, New South Wales, and entertained with selections covering from the 60's through 90's. One of the sets was introduced as little bit of New Jersey" and the band began a medley of Bruce Springsteen songs. Following was "coming back to Montauk music" with hits of Montauk's own celeb Paul Simon to please the audience. What's nice about these outdoor concerts is that they attract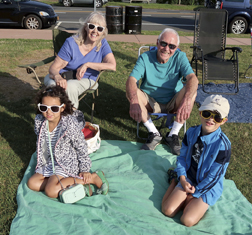 listeners of all ages, from families, young children, teens and seniors out for a relaxing evening. Jumping ahead to the 90's, our two visiting young grandchildren sang along to a few of the songs we were unfamiliar with, so I knew it was songs of the newer performers hits. Speaking of the younger set, on Wednesday evening the Surf Lodge hosted an evening to benefit Camp Soul Grow and children were invited from 6 to 8 pm to visit the well-known Montauk night spot. Its website describes Surf Lodge as being a "hip spot" because of its musical entertainment and dining." Several papers are quick to post when celebrities are seen there visiting or on an impromptu performance. For that children's welcome night, the "beach area" was set up for tie-dying as a fund raiser for the camp. The Nancy Atlas Project was on stage and the audience area was packed with guests and visitors for both the show, activities and a casual after beach drink. Nancy Atlas performs there every Wednesday evening. Check out www.thesurflodge.com to see their rooms, menu and upcoming concerts.
There is still a whole lot of summer left to enjoy what Montauk has to offer. Be sure to pick up the Montauk Sun (www.MontaukSun.com) and check out the Montauk Chamber of Commerce, too. (www.MontaukChamber.com)