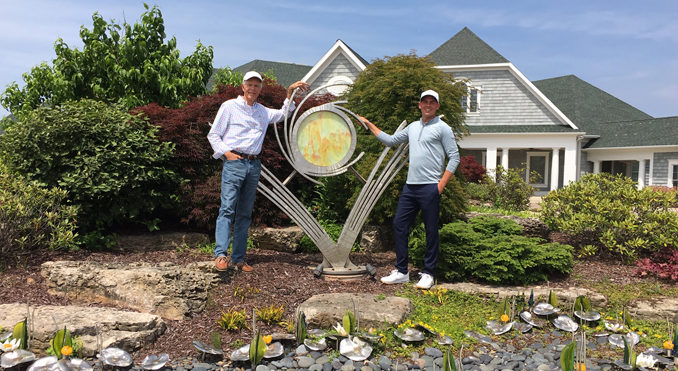 Harbor Shores Resort…
St. Joseph, Michigan's Most Romantic City!
We were on our way to Traverse City to celebrate our niece Tara's wedding and were very much looking forward to the family reunion as well as the country wedding 'the kids' had planned at the groom's parents place in Interlochen. But first we were going to spend some time with old friends in the famous tourist town of Holland, and then a round of golf on the only Jack Nicklaus Signature Course on Lake Michigan.
After two amazing days with Marcus' friends Larry and Suzanne on Lake Macatawa, all the while being treated to wonderful farm to table cuisine at 'Salt of the Earth' and experiencing 'One of America's prettiest towns' Holland and seeing their famous 'Big Red' lighthouse really close-up, we had a hard time saying goodbye. www.holland.org
Southwest Michigan is renowned for its soft sandy beaches, towering dunes and gorgeous sunsets along the Lake Michigan shore. The Detroit Free Press and the Fine Living Channel named St. Joseph "Michigan's Most Romantic City" and "The Riviera of the Midwest". This beautiful region attracts many second-home buyers and tourists, as its countryside is renowned for its beaches, its scenic inland lakes and four major rivers as well as vineyards, wineries, fruit orchards and many farm to table restaurants. No wonder that Michigan is one of the premier wine regions in the U.S., as Lake Michigan tempers their climate, similar to the grape-growing areas of France and Germany. www.swmichigan.org
We found St. Joe, 'Michigan's Most Romantic Town', poised atop a bluff along Lake Michigan's shore, and its Harbor Shore Resort located in short walking distance from its famous drawbridge. Harbor Shores is the first beach, golf, and residential waterfront resort community in Michigan's Great Southwest and we were excited to be here. The Inn itself offers over 90 luxurious guest rooms, an amazing (for the lack of better words) beauty and health spa, an indoor and outdoor pool, fitness center, state-of-the-art meeting rooms and wedding venues, all granting fabulous harbor views. St. Joseph and its Harbor Shores Resort are located just 90 minutes east of Chicago, making it a perfect destination while discovering the charming countryside along the way. www.stjoetoday.com
Harbor Shores has several dining options, featuring 'Plank's Tavern' which offers beautiful water views of one of the oldest harbors in the Great Lakes. We had a nice dinner here on our first evening and enjoyed the cuisine as well as the attention of the staff. The Inn's waterside restaurant owes its name to an original local resort, Plank's Tavern, built in 1888 by John Oliver Plank.
Since my husband had an early T-time the next morning, and wouldn't dare be late for golf, he hopped on the go into 'Rise & Vine' for a piece of quiche and a cup o' java. This cute bistro is brewing coffee beans by day and offering fine wines by night.
The Golf Club at Harbor Shores is a Jack Nicklaus Signature Golf Course that is recognized for the high standards of Nicklaus' Design and the only one of its kind on the shores of Lake Michigan. After successfully hosting the KitchenAid Senior PGA Championship in 2012, 2014, 2016 and 2018, Harbor Shores will again play host in 2020, 2022, and 2024 to the same Championship. The course runs over four remarkably diverse terrains that challenge golfers and offers a spectacular setting in which to play. The Senior PGA Championship made its first appearance in Michigan in 2012 at Harbor Shores, a proud part of the revitalization of the Benton Harbor and St. Joseph communities.
After my husband had left early for his round of golf, I'd lost time with a cup of coffee on our private balcony overlooking the harbor on the 7th floor. Captivated by both the book, 'Teeing it Forward in Michigan's Great Southwest!' as well as the views from up here under a blue cloudless sky, had me glued to my chair. I realized that this waterfront setting is connected to over 12 miles of walking trails leading through quiet natural settings, miles of nearby Lake Michigan beaches, kayak and canoe launches and the Harbor Shores Golf Club. –GOLF! By the time my husband was about to enter the second half of Harbor Shores 18 holes, I finally took the elevator to the 2nd level to The Spa.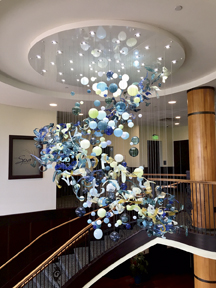 As I exited the elevator, I thought that I had accidentally pressed the wrong button and entered an art exhibition, but realized that the floor was studded with water, oil and mixed media paintings. 'The Gallery at Harbor Shores' features a rotation of select Michigan Artists located on this mezzanine level, as well as in select public spaces throughout the Inn. From here I was able to look down to the stunning flowing blue and white glass art that was hanging from the ceiling high above and had grabbed our attention as soon as we'd entered the main lobby.
Nicely hidden on the second floor I found a tranquil oasis that had me from the moment I opened the hidden door. Elegant changing rooms, a lovely relaxation space with a flickering fireplace, soothing textures and colors, besides healthy snacks and teas –the perfect setting for a 'Golfer's Wife' or a 'Sportsman's Special' with some infrared sauna added after 18 holes? –After all The Spa was facing Harbor Shores Golf Course. I am used to fabulous facials through my travels around the world but had never found a pro equaling the skills of my favorite esthetician Alba Garcia of Gurney's Sea Water Spa in Montauk, NY, until then. The deep cleansing and rejuvenation facial from Kelly Nate that morning would have alone been worth the trip. Kelly is a Michigan girl who lived and worked for a while in Florida and had come back home to be with her family. Lucky me. — I'd been dealing with some upper and lower back tension through our long travels and Deanna Horrell L.M.T., a retired teacher who found her calling in therapeutic massage therapy, worked on my fascia tissue with her skilled hands as well as hot stones. With more and more research done about the function of our bodies, doctors finally understand that our fascia just isn't something to cut through to get to our muscles, ligaments and tendons and that complementary and alternative medicine is real.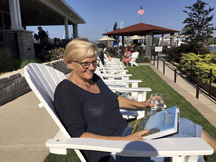 I would have loved to stay and lunch in my bathrobe with a cup o' tea but had promised to meet my husband for lunch at The Grille at Harbor Shores Golf. As soon as I arrived Marcus introduced me to Joshua Doxtator, PGA, a young man who has received many accolades and awards, besides the President's Council Award on Growing the Game, PGA of America in 2010. Marcus and Josh had played 18 holes on this scenic and challenging course and they were by now good for lunch. Being married to a golfer I've spend ample time in golf resorts, on golf courses and dine often at golf clubs. I took one look at this menu and knew that this was not the typical golf club food. I am a foodie and so I got excited. I ordered the Green Goddess salad and the guys, Buffalo chicken sandwiches. –Listening to the pros, while we were waiting for the food, I realized that Harbor Shores is an environmental masterpiece, a once impossible task that has transformed an entire community. Over 3 million square feet of dilapidated buildings were demolished and over 140,000 tons of waste material was removed from portions of the Paw Paw River and throughout the various sites on the property. Each hole has been named after plants indigenous to the area and at each hole a metal sculpture with at least one piece of hand-blown glass holds a plaque describing one of Jack Nicklaus' major championships.
I am a beachcomber and finding blue beach or red beach glass gets me excited. I am also a foodie and when our lunch arrived, I got equally excited. When I met the young Executive Chef, Kelly Matlow, personally after I'd tasted his cuisine I had to hug the man who created this amazing menu, soup to nuts. This was real food! Kelly is serving farm to table in its purest form, red beach-glass cuisine. St. Joe is beautiful and Harbor Shores Golf Resort & Spa a must; but do yourself a favor, even if you are not a golfer, and save one of your meals for The Grill. www.harborshoresresort.com
Until next month from another interesting location.
~Love, Ingrid
https://www.facebook.com/ingrid.lemme
Award-winning TV Host, Publisher, Travel Writer, Ambassador for www.Seven-Stars.com